SHERCO AND MOTUL SIGN A GLOBAL PARTNERSHIP
SHERCO AND MOTUL SIGN A GLOBAL PARTNERSHIP
Sherco, the fastest growing motorcycle manufacturer in the all-terrain market, is proud to announce its new partnership with Motul, a world market leader in lubricants for motorcycles.
It is an exceptional 360 degree partnership which brings Motul and Sherco together for competition, first fill, service fill and manufacturing products.
Thomas Teissier, General Manager Sherco:

"We have got to know Motul very well through our involvement in the Dakar and it was clear that our philosophy, our core values and approach was very alike, so they are a perfect partner for us on a wider scale. Motul's quality, originality and racing-led development has proved itself over 160 years now and, for a relatively young company such as Sherco, this experience and wisdom is invaluable."
Thierry Quilan, President of the Management Board Motul:

"We are delighted to announce this new partnership with a brand which is as young and flourishing as Sherco. Its values of family-led management, innovation and performance are those very much in common with our own at Motul, and of course we also share a real passion for racing. We have no doubt that this partnership will very quickly produce results both on track and through our distribution network."
Sherco is experiencing unprecedented development in the all-terrain motorcycle industry. The success of its 39 models of enduro, cross-country, trial and 50cc motorcycles that are sold in more than 66 countries and the races and championships they have won all over the world against the biggest brands are the keys to this success. Sherco now also offers the best-equipped series of motorcycles on the market. Since 1998 and their first trial bike, Sherco has always surrounded itself with the best partners to innovate and gain performance. It is this logic that Sherco is happy to count Motul among its partners today, to go even further.
Motul is a world-class French company known for 165 years of producing quality products, its capacity for innovation and its commitment to competition. Motul is also recognized as the specialist in synthetic lubricants, in 1971 they developed the first 100% synthetic lubricant for automotive engines. Over time, Motul has acquired extensive experience as an official supplier for many teams and manufacturers in the field of motor sports. Motul currently supports teams in international competitions such as the Dakar, the 24 Hours of Le Mans, the FIA ​​World Championship, the Moto GP, the Superbike, the MXGP, the World Endurance Championship, the Tourist Trophy of the Isle of Man, the FIA ​​Rallycross World Championship and many others.
Motul and Sherco today form a union that started 6 years ago at the Dakar rally. These first steps together led the two organizations to think further, well beyond the borders of the Rally-Raid.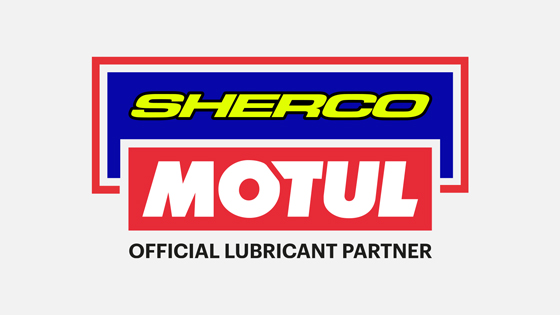 Racing Partnership
Developed specifically for Motul competition, Sherco will supply its best-seller 300V Factory Line, as well as the entire range of Powersport and MC Care products. This partnership will include all the national and international competitions in which Sherco factory riders are engaged, such as the Dakar, the Enduro GP, the international Enduro Extreme races, the Trial GP, the XTrial and many others.
First Fill Partnership
The new motorcycles produced by Sherco will be distributed with 100% Motul fluids including Motul 7100 synthetic oil, and engine coolant. Motul is recognized for the reliability and high performance of its entire range of products for motorcycles and will be an added advantage for all Sherco enduro, cross country, trial and 50cc models.
Service Fill Partnership
Sherco, whose international presence is rapidly increasing through its network of importers and distributors, will recommend Motul for maintenance and cleaning products for its motorcycles. Motul offers a wide range which will allow the rider of a Sherco motorcycle to maintain his 2T or 4T engine: gearbox oil, engine oil, 2T mixture oil, grease for the air filter, cleaning and lubricating the chain, brake and coolant, fork oil and cleaning products.
Industrial Partnership
Sherco production plants will now use products from MotulTech's industrial lubricants department. These high-tech industrial lubricants have been developed and manufactured specifically for the machining and lubrication of all industrial equipment.
The objective for Sherco is to have a wide and complete range of products, suitable for all stages of its production. Motul, in accordance with its concept "Casted, Drilled, Filled" meets this need, with a global solution from creation to the final product.
This partnership is taking shape today at several races around the world where the Sherco Factory Team riders are competing. They are competing at the opening of the Belgian enduro championship where Antoine Magain will make his debut on the 250 SE Factory and at the opening of the national extreme Portuguese enduro championship where Mario Roman will be at the helm of the 300 SE Factory, both in Motul colors.
Sherco would especially like to thank Pascal Tomek, Arnaud Laire and Nicolas Zaugg for their crucial involvement in making this partnership a reality.
Sherco wants to also thank Minerva Oil and its president Olivier Lafarge for their support of the Sherco brand over the past several years!
WADE YOUNG WINS THE FIRST EDITION OF THE EXTREME PEYRATOISE (GLC)!
On the steps of GLC
This past weekend the inaugural edition of the Extrême Peyratoise took place, it is a resurrection of the Gilles Lalay Classic which stopped in 2001.
The race was held in Peyrat-le-Château – a legendary place for "old school" enduro racing.
In the paddocks we heard many stories from those who have experienced it, and there was much speculation on this updated version….
Extreme enduro racing is back in the forefront of the world enduro scene and when the announcement of the arrival of a new event that was taking place where the Gilles Lalay Classic was formerly held actually became a reality, Sherco had to be there!
We will fill you in on the results without delay: we were not disappointed!
Race stages
Our two riders Wade Young and Mario Roman had a 6 AM departure for the special and they both choose to compete on the 300 FE Factory.
It was cold and icy and the ground was frozen from the low temperature of the night before, both riders had a good start and were in the hard enduro spirit. After the 2 laps of the special, Wade finished 5th and Mario 7th.
We noted the presence of a large crowd around 9 AM as the riders were making their second pass of the special, the new venue seems to be working.
The Extreme started at 3 PM., with a rider leaving every 15 seconds. Wade left with a 1min delay and Mario, 1min30s.
At the first check point, Wade was in 3rd place, followed by Mario in 4th.  The "impossible" climb was filled with a large crowd of spectators, our guys climbed it successfully! At the first refueling, Mario was second, followed further back by Wade, who had been slowed down by a damaged brake pedal.  He took time to get it straightened and was able to continue.
Julien Gauthier took the lead at the start of the race, but Wade was having a "good day" and this was the type of course and difficulty that he loves.  He managed to take the lead and was followed by Mario, who hangs on about 2 minutes back until nightfall.
Wade was able to continue racing on his rhythm and arrived in first place at the famous Dead Crow at 9:02 PM. Fourteen minutes later, Mario followed him and finished second.
Second victory in a row for Sherco
The Extreme Peyratoise is certainly not the GLC, but it is a chapter 2 which was promoted by a motivated motorcycle club, full of history, where young people wanted to revive a "legendary race", and they were assisted in this adventure by  the older generation.
Bravo to you for this ambitious endeavor and a successful event!  Sherco hangs the Dead Raven on its record and records its second consecutive victory in 2020 in the Extreme!
We are thus establishing ourselves for the first time in Limousin*, but we were too young in 2001, and our enduro range did not yet exist!
* on the Extrême Peyratoise race. The Enduo was won by Mario Roman in 2018.
SHERCO TVS RALLY FACTORY TEAM STARTS 2020 DAKAR
Riders : Lorenzo Santolino #24 Johnny Aubert #20 Adrien Metge #11 Harith Noah #83
Images : ASO Edit: Segaldon production
WELCOME BAYLOR'S BROTHERS
Spring Branch, TX – FactoryONE Sherco is proud to announce that Steward Baylor Jr. and Grant Baylor have joined the FactoryONE Sherco Enduro team. The South Carolina natives recently signed a multi-year agreement to ride the SEF 450 Factory Sherco in both the GNCC and NEPG series starting in January 2020.
Grant Baylor:
"Here in 2020 I've got some big changes as I am switching to FactoryONE Sherco. I am excited to get on this new bike and see what we can do with it and put it on the box."
Steward Baylor Jr:
"With the new team, I feel like these guys are putting everything in and I am ready to go win some races on these new amazing machines."
The Baylor Brothers have seen success at every level. They have won national championships and international championships.
Steward Baylor:
2011 GNCC XC2 Champion
2012 National Enduro Champion
2014 ISDE Junior World Champion
2015 OMA Champion
2016 OMA Champion
2017 National Enduro Champion
2017 Full Gas Champion
2018 National Enduro Champion
2019 National Enduro Champion
2019 ISDE World Champion.
Grant Baylor:
2013 GNCC XC2 Champion
2014 GNCC XC2 Champion
2014 ISDE Jr. Champion
6x ISDE Competitor
2014 Tennessee Knockout Hard Enduro 3rd place
2019 NEPG Runner Up
"I am honestly still in a bit of shock" said Ron Sallman, team owner. "First Cody Webb, now Steward and Grant Baylor? The brothers provide FactoryONE Sherco with an immediate opportunity to chase championships and be on the box often in two prestigious off-road series. Stew is fresh off winning the NEPG championship, finishing only a few points ahead of Grant in second place. They both had strong showings at ISDE. I am really looking forward to seeing what they will do in 2020"
"Stew and Grant provide us with a big one-two punch on the East coast" Said team manager, Wayne Dickert. "GNCC is arguably the largest off-road series in the world based on the total number of participants and fans. This provides Sherco USA with an amazing opportunity to bring the brand front and center in front of thousands of loyal fans. I am excited to get the new season kicked off."
The Baylor brothers will be racing the full GNCC and NEPG series as well as a few select other sprint enduros.
About FactoryONE Sherco:
Team FactoryONE is a multi-time United States AMA championship observed trials team and newly formed enduro team led by some of the top riders in the business. The Trials team is led by 11x AMA Champion Pat Smage (Smah-gee) on the men's side; and 6x AMA Champion Louise Forsley (fours-lee) on the Women's side. The trials team consists of 10 riders. The Enduro team is led By Cody Webb on the hard enduro side and Steward and Grant Baylor on the GNCC side. The team features nine total riders competing in disciplines like Hard Enduro, EnduroCross, GNCC and NEPG