Published the 8 9月 2023
Riding experience Costa Rica
Would you like to discover Costa Rica on a Sherco Enduro bike?
Christophe Eliet, a French national, has lived in Costa Rica for 23 years and offers you an opportunity to ride a discovery tour in Costa Rica. A lifelong dirt bike enthusiast, he has participated in various championships in motocross and enduro. He then emigrated to Costa Rica where he continued enduro racing in the National Championship and Latin American Championship.
10 years ago, he created an enduro tour company, thus being able to introduce this marvelous country to off-road motorcycle enthusiasts.
"I started with 6 Gas Gas enduro bikes welcoming small groups of foreigners in 2012. The volume was low due to lack of advertising, but the logistics were good, and customers sent their friends to me, and they also returned. In 2014 I changed my motorcycle fleet for new Gas Gas bikes via the local importer, the volume increased then increased again thanks to a complete website and good comments! I was having around a hundred customers per year at the time.
In 2018 I had a brand change to KTM, 10 motorcycles 200 customers on average per year. I had customers from several nationalities: mostly French-speaking 60% (Canadians, French, Swiss, Belgians) Spanish, Americans, Italians, Norwegians, Germans, Australians, and South Africans!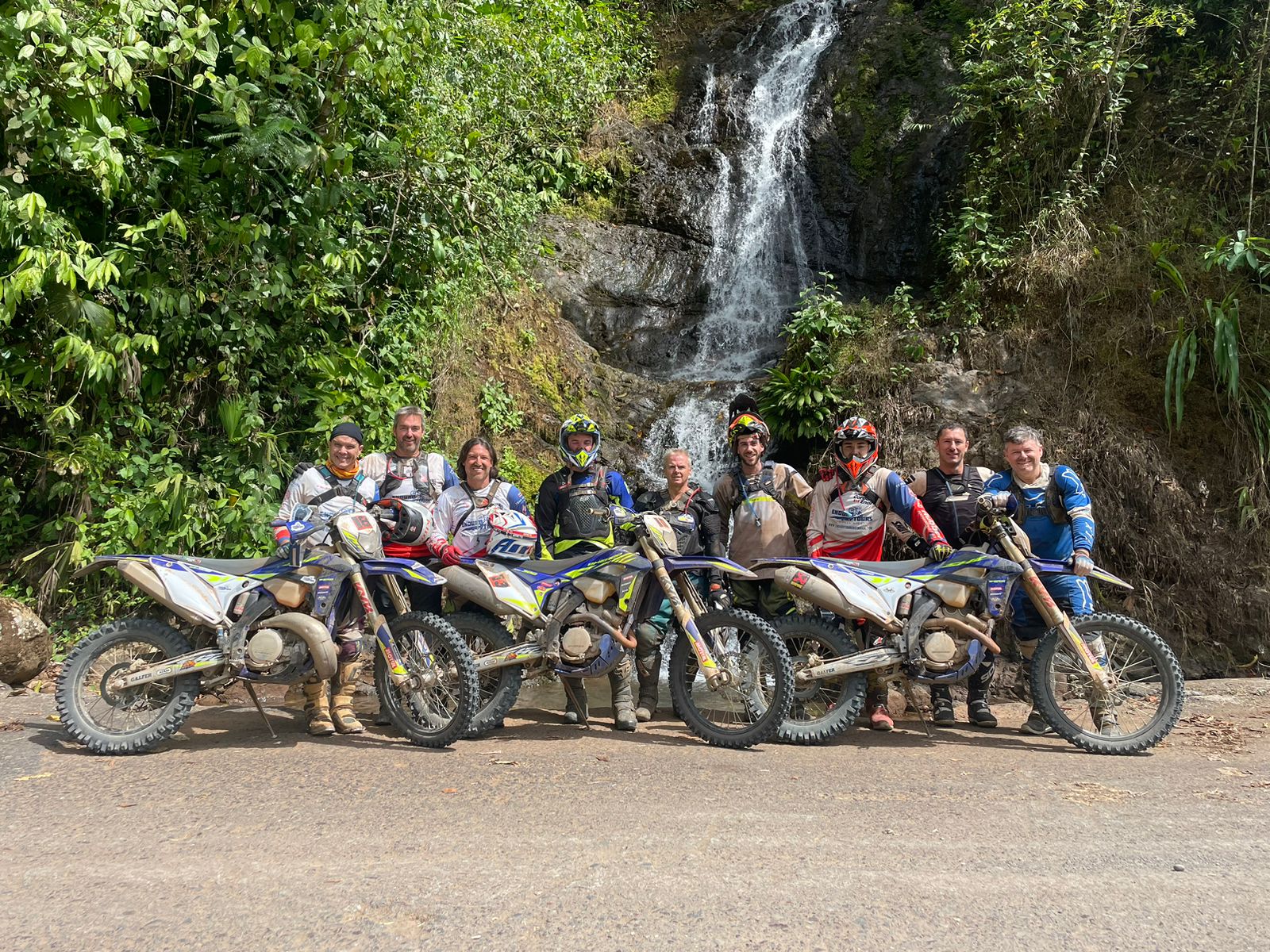 In 2021 I invested in Yamaha T7s, offering trail tour itineraries as well as offering rental bikes. My enduro itinerary is included.
With Covid coming, the activity was on standby for almost 2 years, but since October 2022 I have been full of tours, both enduro and trails. After visiting the Sherco factory last June, and after a meeting with Thomas Tessier, I invested in the purchase of 8 Sherco enduros:
1 x 450 SEF
1 x 300SE
4 x 300 SEF
2 x 250 SEF
My team consists of 2 guides, 1 mechanic, 1 assistant vehicle driver, a secretary and an administrator.
We are based in Santa Ana, 10 km from the international airport and the capital San José.
My company is registered in the commercial register: #3 101 660297 in the name of Enduro Adventure SA Tower.
All my motorcycles are registered, have received technical inspections and circulation rights. We speak French, Spanish and English."
Instagram: 14.5k followers endurotourcostarica
Facebook: 8.9K likes • 9.1K followers Enduro Tour Costa Rica
Contact: Christophe Eliet
Adresse: Escazu, Costa Rica
+50684815333
christophe@endurotourcostarica.com